The Ups and Downs of Today`s Market
Guidance Through These Difficult Times
By Barbara Patrick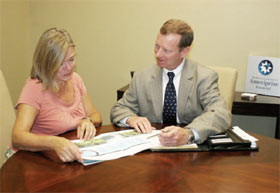 Jody Hyden, a Certified Financial Planner TM, sees himself as a coach to his clients. After three years as the head women's tennis coach at Duke University, perhaps it just comes naturally. He likes interacting with clients to help them find their way in today's market.
"I like to teach in a real-life setting," said Hyden. "It's important to have somebody by your side who can see from the outside and take the emotion out of money to maintain a good perspective."
Hyden explains that, statistically, since 1950 there has been a recession approximately every six years and that these are the natural ups and downs of the market. During the last few years, other events occurred to make this one a little more severe than previous recessions.
In spite of that, he says it is possible to minimize risk. Now is a good time to sit down and reassess goals. Clients who might have called themselves moderately aggressive in 2007 may now consider their risk tolerance more conservative. A certified financial planner can help clients consider the overall picture – how soon they will need the funds, how much risk they are willing to undertake and even their fears and concerns.
"If my clients aren't sleeping at night, then I know I need to help them make changes to ease their concerns," Hyden said.
Hyden emphasizes diversification for his clients, and the easiest way to accomplish that is by using mutual funds, bonds and stocks, as well as other products and platforms.
"It's very important to tailor financial advice for each client based on their individual needs," said Hyden. "It is also important to have frequent communication with clients to make certain they remain on track and in the know."
The market is complicated to maneuver, and that's why it is important to have a coach to teach important terms such as the difference between "total return" and "real return." He reminds everyone to make certain their advisors are properly licensed and their credentials are in good order by asking them directly or by searching FINRA.com. In addition, he urges people to put good protection in place, including life insurance, long-term care insurance and estate planning.
"I encourage people to build a solid financial team by working with a financial advisor, a tax advisor (CPA) and an estate planning attorney," said Hyden.
"And be conscious about where you are getting your information," Hyden added. "What works for your uncle may not be right for you. Ask an advisor, because every situation is unique."
Spoken like a true coach.
Jody Hyden, CFP, CRPC, PFS, is a senior financial advisor at Ameriprise Financial, which is located at 225 Seven Farms Drive on Daniel Island.
CONTACT INFORMATION
Jody Hyden
Ameripise Financial
225 Seven Farms Drive Suite 102
Daniel Island South Carolina 29492
Phone 843-284-1237 Ext. 207
E-mail Jody.C.Hyden@AMPF.com